Corrugated Microflute Packaging.
Packing. Packaging made of corrugated microflute.
Corrugated cardboard packaging. Microflute of T-23 class.
Sevastopol. The Crimea.Ukraine.
We can offer a diverse range of packaging made of corrugated microflute of T-23 class (white). These are packing for pizza, confectionery, souvenirs, up-market products etc.
"Centre of Design and Packaging" purchases microflute directly from the best foreign suppliers, ensuring quality, consistency and continuity of raw materials that will produce into the best corrugated and cardboard cartons at the best possible price.
Pizza packaging.
Our hearts and stomachs have been overmastered recently by the product of Italian cuisine – pizza.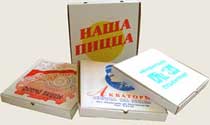 However it's difficult to imagine pizza without a practical and easy-to-use packaging. Generally such a packaging is produced of corrugated microflute with a four-color printing applied.
Упаковка для обуви

Footwear packaging
Cartons of a "pack"-style made of white corrugated microflute with the folding bottom of the"swallow"-type.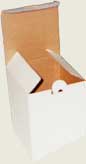 ---
If you need corrugated cardboard or microflute corrugated cardboard packing, please fill out the order form to receive a sales letter